Kitesurfing. Just hearing the word evokes images of thrill-seekers dancing on waves, harnessing the wind's raw power. For those of you unfamiliar with this incredible sport, you're in for a treat. This blog post will be your introduction, and by the end, you might just be itching to hit the waves yourself.
What is Kitesurfing?
Kitesurfing, often referred to as kiteboarding, combines elements of surfing, paragliding, and wakeboarding. Here's how it works: you stand on a board, hold onto a kite, and let the wind propel you across the water. Sounds simple, right? But, of course, there's a bit more to it than that.
Equipment You'll Need
The Kite: The star of the show. Kites for kitesurfing come in different shapes and sizes, designed for varying wind conditions.
The Board: Much like a surfboard, but specially designed for kitesurfing. Some have foot straps or bindings.
Harness: This helps you connect with the kite and distribute the pull of the kite across your body.
Now, you might be thinking, "Where can I find all of this equipment?" There are specialized surf shops for that, such as https://easy-surfshop.com/. They provide everything you need to get started.
Benefits of Kitesurfing
Physical Fitness
Kitesurfing is an excellent full-body workout. As you ride, you'll engage your core, arms, and legs. Plus, it's way more fun than spending hours at the gym!
Mental Health Boost
Being out on the water, feeling the wind and waves, is an incredible stress-reliever. Kitesurfing allows you to connect with nature and find a moment of tranquility amid the chaos of everyday life.
Community Connection
The kitesurfing community is vibrant and welcoming. As a newbie, you'll find plenty of seasoned surfers eager to share tips, tricks, and stories.
Starting Your Kitesurfing Journey
Embarking on your kitesurfing journey might seem daunting at first, but remember, every seasoned kitesurfer was once in your shoes – or rather, on your board.
Choosing the Perfect Location
When it comes to kitesurfing, location is key. You'll want a spot with consistent wind, but not too strong for beginners. Sandy beaches with a gradual decline into the water are ideal as they offer a safer environment to practice.
Tip: Talk to local kitesurfers or visit online forums. They can guide you to the best spots tailored to your skill level.
Practice Makes Perfect
As with any sport, practice is essential. Here's a step-by-step approach to get you started:
Kite Control on Land: Before heading to the water, practice flying your kite on the beach. Get a feel for the controls and understand how the kite responds to different movements.
Water Body Dragging: Once comfortable with the kite, head into shallow water without your board. This exercise teaches you how to control the kite in the water and get a feel for its pull.
Water Starts: Now, it's time to introduce the board. Practice getting up on the board with the kite's pull. It might be challenging initially, but perseverance is key.
Riding: Once you manage to stand on the board, practice short rides. Gradually increase your distance as your confidence grows.
Respect the Ocean
The sea is unpredictable. Waves, currents, and winds can change rapidly. Always be alert and aware of your surroundings. And if you ever feel something is beyond your capabilities, there's no shame in waiting for another day.
Join the Kitesurfing Community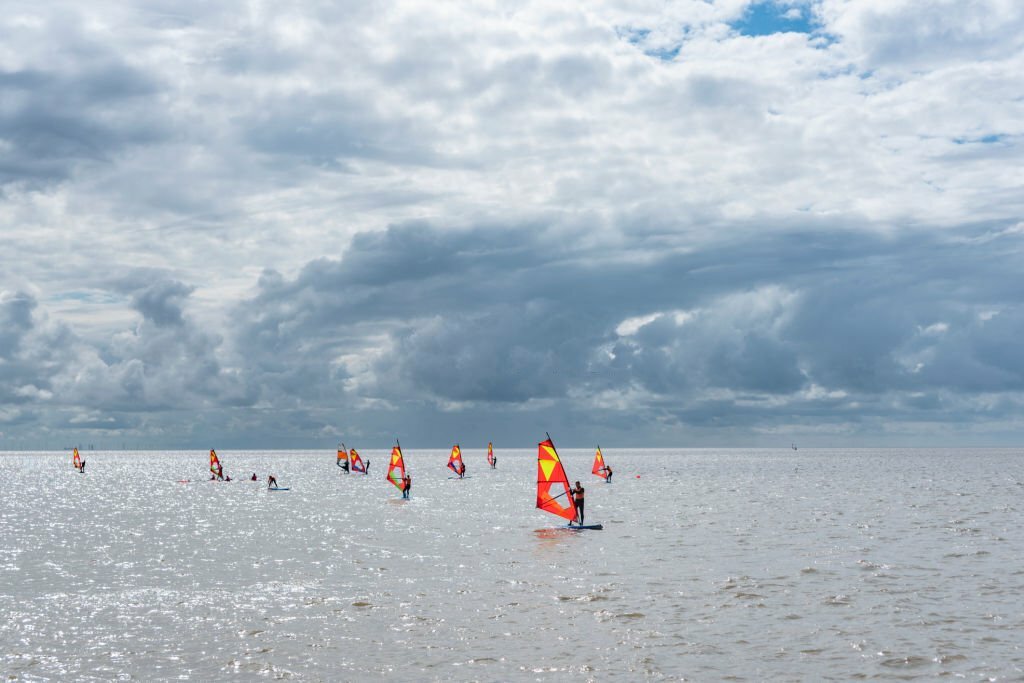 As you delve deeper into kitesurfing, you'll find that it's more than just a sport; it's a lifestyle. And a big part of that lifestyle is the community.
Events and Competitions: Local and international kitesurfing events can be a fantastic way to meet fellow enthusiasts, learn from the pros, and showcase your skills.
Kitesurfing Clubs: Many areas have local clubs that organize group rides, lessons, and social events. It's a great way to make friends and find kite buddies.
In essence, kitesurfing is a journey, not a destination. With each ride, you'll learn something new, face different challenges, and experience the sheer joy of dancing with the wind and waves.
Safety Tips for Beginners
Kitesurfing is exhilarating, but like all sports, it comes with risks. Following some key safety tips can ensure that your experience is fun and free from accidents.
Take a Lesson: Before diving in, take a lesson from a certified instructor.
Check the Weather: Wind and weather conditions can greatly impact your kitesurfing experience. Make sure you're heading out in safe conditions.
Start Small: It's tempting to jump into big waves and strong winds, but start with milder conditions as you learn.
In conclusion, kitesurfing is a thrilling sport that offers physical, mental, and social benefits. Whether you're an adrenaline junkie or someone looking for a new hobby, kitesurfing might just be what you're seeking. Remember to respect the power of the sea and wind, and most importantly, have fun riding those waves!